Singapore based Finance-PR duo, David and Isadora are the Australian couple behind Pop Up Wine. Their folly evolved out of their love of wine and the seemingly impossible task of finding good wine in Singapore for less than the air fare back to Oz.
Aghast at the thought that friends might be drinking one bottle of wine instead of two because of the price, David and Isadora started Pop Up Wine. Initially supplying friends, their wine is now available to friends of friends… of friends.
David and Isadora's association with wine began in 1849 when David's great, great great, grandfather, 'ol man Freebairn, left Scotland for Mclaren Vale, South Australia - planting what would be some of Australia's first wine-growing vines. Isadora's affinity was much more accidental, when Grandpa Ted unintentionally bought a working vineyard - to house his 1000 mob of prize merinos! Near the wine region of New Norcia, Western Australia, the region is planted with vines from the anointed hands of Italian-born, Benedictine monks.
Why Pop Up Wine? Because occasionally a Pop Up Wine store will spring up in the most unlikely of places.
Our wines are critically lauded, and much awarded, and represent unquestionable value. 
Many hail from Australia and New Zealand from regions where David and Isadora grew up. There are also some special 'finds' from France, Italy, Argentina and the U.S.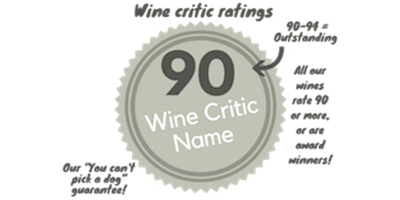 You'll notice that most of our wines are rated by trusted critics. A Pop Up Wine will always be a medal winner, or have a minimum rating of 90, or 17/20. Wines of this rating are classified by critics as "outstanding". A 95-100 rating is considered "extraordinary" or "classic". Wines of this quality usually have a cult following. 
Like David and Isadora's four children, Pop Up Wine wines are painstakingly cared for. Housed in temperature controlled storage in Singapore (the wine not the children), even-our aged wines have enjoyed this five-star treatment since launch. 
Some of our wines are big ticket heroes, and others stand-out, wallet-friendly finds. All are direct imports and aim to be dramatically below the price to be found elsewhere in Singapore - if you can find them at all! All are excellent drinking and have been hand selected by David.
If you should find a wine cheaper elsewhere in Singapore, that you can buy by the bottle and have delivered same day, we're happy to match the price.